Moeller Ventures provides executive-level business development, market analysis, and data analytics consulting services into projects involving strategic planning, competitive intelligence, product development, new product introductions, intellectual property analysis, and technology assessment. Typical projects leverage competitive intelligence and intellectual property research across a wide range of technology domains including medical and healthcare technology, IoT (Internet-of-Things) applications, wireless communications (LAN and WAN), broadband wireline communications, electronic components (e.g. radio frequency ICs, microcontrollers, sensors) and other general areas of electronics technologies.
Able to deliver on projects that require the unique expertise combination of market analysis, financial assessment, and technology due diligence utilizing experience acquired from independent consulting, investment banking and electronics engineering.
Independent projects and reports have focused on cloud computing (Microsoft Azure, Google Cloud), Internet-of-Things, wireless technology, Google BigQuery for patent research, and competitive intelligence analysis (see Moeller Ventures blog: https://www.moellerventures.com/index.php/blog).
Relationships and executed client projects span intellectual property law firms (Schwegman, Lundberg, Woessner), technology suppliers (e.g. Digi-Key Corporation, Soligie Inc.), post-secondary educational institutions (University of Minnesota), and venture capitalists and institutional investors (Platinum Equity, Sun Capital Partners, Crescendo Ventures, Kodiak Venture Partners, Avalon Ventures). See the list of Past Consulting Projects at the following link - https://www.moellerventures.com/index.php/past-projects.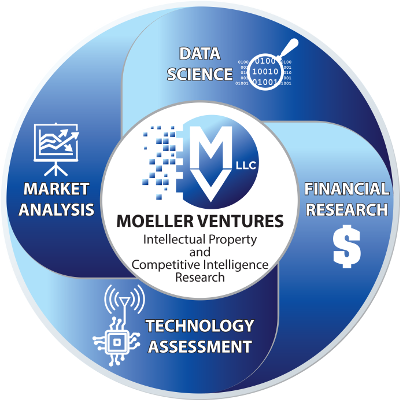 Services Overview:
Market & Competitive Intelligence Research:
Market, product and competitor landscape profiles.

Market research and customer prospecting for business development.

Technology, standards, and regulatory assessment.

Strategic partner research.

Industry and corporate financial analysis.

See blog post "Competitive Intelligence for Successful Businesses"
Patent & IP Analysis:
Market applicability research.

Technology assessment.

Financial analysis, modeling and valuation.

Due diligence evaluations for IP licensing, sale or purchase.

Patent portfolio analysis

Prior art analysis.

Patent landscape analysis.

Freedom to operate search.

White space research.
Search and Data Services:
Public and Dark Web keyword crawling.

Customized crawling and monitoring functions.

Automated patent searching using tools such as Google BigQuery and others.